I read one time that yogurt can be dehydrated into bite-size snacks for pet rats. I was curious as how this would work with my pet ratties yogurt, Greek Yogurt.
I had my friend try them and they came out looking and tasting yummy! They taste just like yogurt, except in a portable, bite-snack. My rats rushed at the thing as soon as I fed them as treats.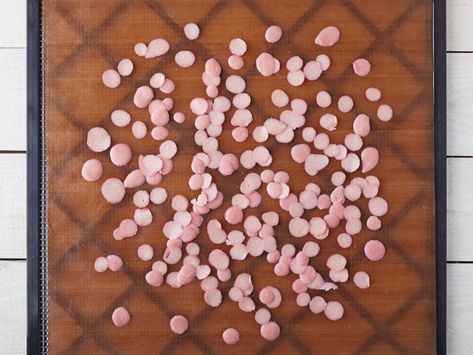 Dehydrated Yogurt Drops Recipe in Oven/Dehydrator
Ingredients:
1 container of Greek Yogurt (any flavor) or any other from our list of safe yogurt for rats.
Instructions:
Step one: Set up your food dehydrator with a sheet of parchment paper (you can use a fruit leather as well).
Step two: Pick up a paper towel with non-stick cooking spray and spray it. Rub the paper towel on the fruit leather sheet. You ONLY need a very thin layer of cooking spray.
Step Three: Next is that you should scoop in very small portions (1/4 teaspoon works fine) in little dollops on the fruit leather sheet.
Turn it up to 135 degrees and dehydrate it overnight.