Today, in this article, we shall be looking at the best rat cage for 2 rats you can buy this year. Because there are many top rat cages available in the market, we have handpicked some of the highest quality yet cheap rat cage for two rats that fits your needs.
PRODUCT
RATINGS
SIZE
Midwest Deluxe Critter Nation [Best for Two Rats]

 

9.9/10
36L x 25W x 38.5H
Prevue Hendryx Ferret Cage [Best for double rats]

 

9.9/10
31L x 20W x 54H
Ferplast Ferret Tower Two-Story Ferret Cage

 

7.7/10
29.5L x 31.5W x 63.4H
In addition to doing the best 5 rat cages for double rats, we will also be sharing a FAQ section with answers to many queries you might have about rat cages. By the time, you are done going trough this content, you will be in a better position to pick the rat cage that is perfect for yourself and your adoring pets!
Best Rat Cages for 2 Rats
Without further ado, here are the best cages for two rats:
Midwest Deluxe Critter Nation
Quick Features
Wheels
Extendable
Bottom is removable
Size: 36L x 25W x 38.5H
Accessibility points is good
The Midwest Deluxe Critter Nation is surely our best choice when it comes to double rat cages. This is a 2-story cage with plastic stairs or ramps to connect. The ramps do come with covers to safeguard the rat's feet no matter the movement, by offering non-slip traction and effect.
This top rat cage for two rats is spacious with enough room for 2 or three rats. You can also place extra structures to further entertain your pet rat.
A notable feature of the Midwest Deluxe Critter Nation rat cage includes locking casters. These come in handy to prevent the rat cage from rolling or swiveling when you are moving from one place to another. Plus, the ratties cage also comes with full-width double doors to make to make access during cleaning and feeding easy.
The shelves are adjustable and wide, so there is more than enough space for your favorite ratties to play.
Experience with product
Customers who are satisfied with their cage purchase have given positive ratings and comments for many reasons. To start with, it features easy-to-adjust shelves and spacious size that provides pet rats enough room to exercise and roam around.
Also, the ease of accessibility, courtesy to the full-width double doors is another reason customers love this cage. This feature alone adds tons of value to the overall product, and customers have pointed it out in their glowing reviews of the cage on Amazon.
Plus, people who have bought the Midwest Deluxe Critter Nation cage have spoken highly of the locking casters that come with the cage's packaging. The caster help hold the cage down sturdily when you are moving it from one location to another. Users love this super convenient features!
Key feature
4 locking wheels
2 plastic pans and 2 adjustable shelves
Pros
It's spacious size can hold many accessories
The trays are removable and allows easier cleaning
Cons
It is quite expensive
Assembly might be slightly challenging
Prevue Hendryx Ferret Cage
Quick Features
Size: 31L x 20W x 54H
It has wheels
Accessibility points are good
No doubt this cage is best for two rats. The Prevue Hendryx Black Feisty cage is another top rat cage for 2 rats that will make an ideal home for your pet rats.
Its spacious interior is modeled for rats, allowing your pet rattit to enjoy all of its playthings and still have enough space to move around freely.
This cage also comes with a well-built hammock, so there is no need for you to buy it separately. Plus, this unit comes with 1 plastic tray, 2 plastic platforms (industrial-grade), 3 firm plastic ramps, and 2 metal grilles.
All of these can easily be taken out before cleaning. The cage's bottom is a storage compartment where you may put your pet rat accessories. Plus, the Prevue Hendryx cage boasts 2 large escape-proof doors with stainless steel and rust-resistant locks.
This allows for greater accessibility from either the top or bottom of the cage. So, maintaining it becomes super easy. You can also easily move your cage from one place to another with help of caters.
Because of it's room, customers widely rated it to bet the best rat cage for 2 rats.
Experience with product
We are really pleased with the cage's metal construction, spaciousness, ease of cleanliness, and escape-proof doors. This cage is the perfect size for your pets to play and roam around. That's why they highly recommend it to anyone looking for a roomy unit for their animals. The hammock has also gotten more admiration from pet owners who are in love with its great accessories.
Although we are impressed with the build, quality, and design, some customers did say that the cage's quality is not as great as they expected, despite being a bit costly. However, this is the only con the cage has received.
Overally, we all agreed that the Prevue Hendryx Black Fiesty Ferret cage makes a wonderful home for two rats.
Key feature
Features Hammock included
Large and hinged doors
Pros
Super secure owing to escape-proof doors
Cage is simple to maneuver around
Cons
Wired ground base
Might not fit your budget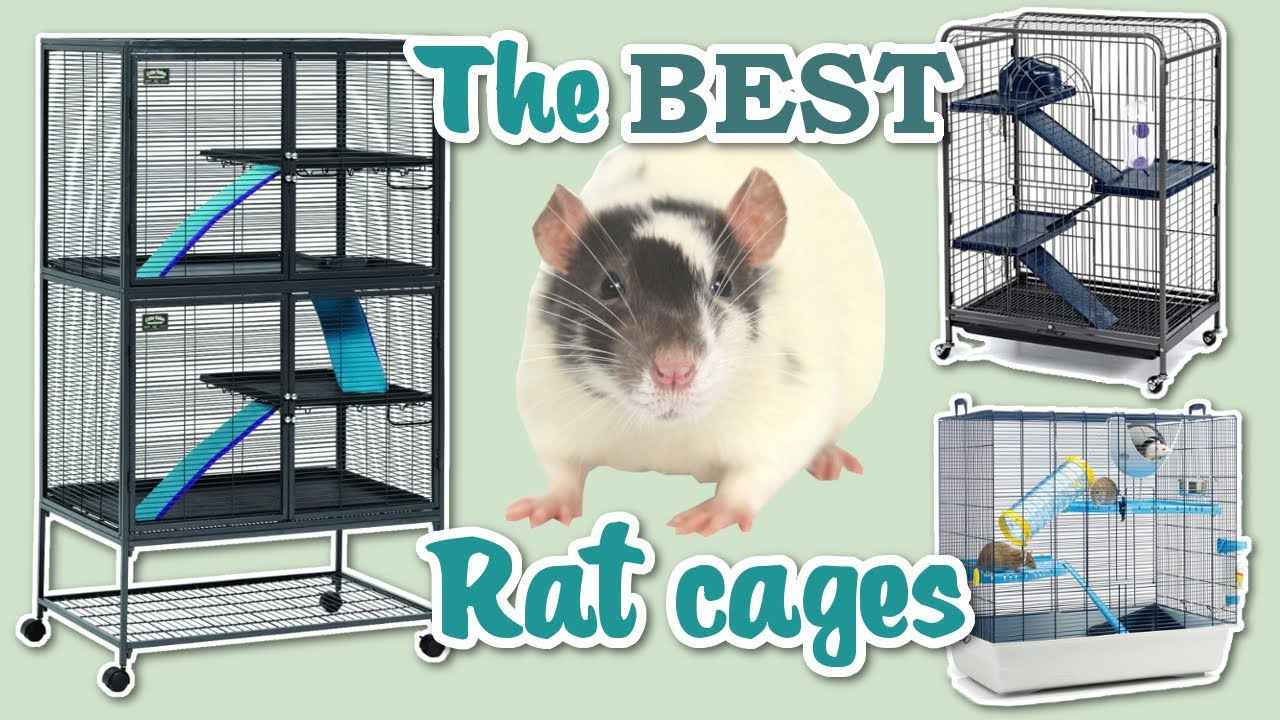 Kaytee My First Home 30 X 18 Multilevel Exotics
Quick Features
Size: 30.5L x 18W x 30H
Accessibility is good
Has a Removal bottom
Includes Wheels
You should get your pet rats the Kaytee My First Home 30 X 18 rat cage if you want your pets to live their best life.
This cage is able to provide an airy habitat for two rats. Plus, the cage features multiple levels that your rodent can explore in. There is a high chance that you will like this cage's base if you do not want your shavings all over your floor.
The base boasts of an open yet deep space with high walls to keep waste from tossing out of the cage, mainly when your pet rats love to engage in roughhousing. Plus, the base's depth also allows your animals to enjoy some privacy.
Another great thing about this cage is how it features narrow bar gaps. So, if you own baby rats, they will not be able to weasel out of the cage. You will not find barred surfaces or grates either, and this significantly beats down the risk of your animals sustaining foot injuries.
Experience with product
When I got my boys the Kaytee My First Home 30 X 18 rat cage,  its chew-proof wire and narrow wire spacing keeps my baby rats safely inside the cage and this melted my heart.
I and several hundreds of pet papa's and momma's out there rate this as one of the best rat cages for double rats; it is sturdy, high quality, affordable and super easy to maintain.
Key feature
Feautures chew proof wire that actually works
Narrow wire spacing
Pros
Budget-friendly cage
Appropriate for desks and tables
Cage is budget-friendly
Simple to maintain
Cons
Its plastic components are really thin
It lacks enough room to hold toys
Ferplast Ferret Tower Two-Story Ferret Cage
Quick Features
Size: 29.5L x 31.5W x 63.4H
Accessibility points are fine
Has a removable bottom
It boasts of Wheels
If you own 3 rats, this unit is perfect for you. The Ferplast Ferret Tower Two-Story Ferret Cage, is a completely accessorized rat cage that contains all your basic pet needs like water bottle, litter pan, 2 ramps, food dish, 3 adjustable platforms, two adjustable play tubes and a hanging hammock that is ideal for a peaceful nap after lunchtime!
This rat cage comes with a door on each level with a "rooftop" door that allows simple access inside the cage. It also comes with 2 deep pans that keep litter and debris inside the rat cage. All you need to do in order to empty or clean the pans are only to unlatch the cage's wire portion.
Lastly, this Ferplast cage's unique latching system connects the base pans to the cage's metal portions. The result? A quick cage setup when you try assembling it.
Experience with product
I loved the comfortability and spaciousness the Ferplast Ferret Tower Two-story Ferret Cage offers my pet rats. Pet lovers like myself also like the fact that this cage comes equipped with many accessories that you do not need to purchase separately, such as litter pan, play tubes, etc.
Some customers did appear displeased and agreed that cleaning this cage does take some time, and it is not as sturdy as they expected. Nevertheless, the advantages of this cage clearly outweigh the disadvantages, so users highly recommend this unit to anyone searching for a cage that comfortably fits two rats.
Key feature
Super large size
4 wheel casters
Pros
Maintenance is easy
Offers lots of room for your pets
Cons
Cleaning this rat cage can prove to be time-consuming
Some of the units come with missing accessories
FAQ
What is cage size appropriate for two rats?
For two rats, the cage should measure 72 cm L x 36 cm W x 44 cm H. But, you will need more space if you want to add additional items like hammocks and toys in the cage to keep your loving pets blissfully busy.
There you have it – Our best rated rat cages for two rats. Did we miss your favorite in this best rat cage for 2 rats review? Leave us a comment below!