2, 3, or 4? No matter the number, rats are social animals and are best kept in pairs.
Rats needs attention and all the care they can get. Before adopting a pet rat, ensure there is first a secure and comfortable habitat waiting for him. We recommend housing your rodent in the best rat cages for 4 rats as this offers sufficient space for your ratties.
| | | |
| --- | --- | --- |
| NAME | SHOP NOW | RATING |
| MidWest 162 Critter Nation Double Unit with Stand | BUY IT NOW | 10/10 |
| Prevue Hendryx Feisty Ferret Cage | BUY IT NOW | 9.5/10 |
| MidWest 182 Ferret Nation | BUY IT NOW | 9.0/10 |
A great cage with entertainment and good space allows your rat live healthy and happy life. Because there are too many to pick from, we made a list of the leading and best rat cage for 4 rats in the market today.
5 Best Rat Cages for 4 Rats
Here are the top 5 best cages for 4 Rat Reviews
MidWest 162 Critter Nation Double Unit with Stand
Labeled the best Multi-Level Rat Cage for 4 rats, the Critter Nation 162 by MidWest is the perfect abode for your tiny whiskery friend.
This Ferret Nation cage to be the best for small pets such as a chinchilla, a rat, a hedgehog, a pygmy shrew, or a hedgehog. You can also pick between a single, double or a three-story unit depending on your pet needs.
The double unit is the most sought after. It has ample space for per rats to run around comfortably plus a wide list of features for the benefit of both pets and their owners.
The Critter Nation 162 measures 36" in length and 24" in width and so, it is super commodious and accommodating; you can place toys, a hammock, some decorations, and other paraphernalia to keep your pet rat happily busy. This rat cage stands at around 5'2.
Regardless of the height, you can easily adjust it to your preferred height. Its full-width shelves are also adjustable so you can fix it according to your pet's preferences. Plus, you can find sturdy non-skid ramps for your whiskery pet to climb down and up.
A storage area is also available at the very bottom to keep your pet essentials such as extra sheets, kibble, etc.
Besides, the 162 model features narrow spaces between its wire bars so your pet rats won't be able to escape. Rest assured that even baby kittens or baby rats won't be able to escape, which is critical if you own other pets that may prey on them.
The wire bars of this cheap rat cage for 4 rats are durable, thick, resistant to stain, and are chew-proof. To foster better convenience, Critter Nation installed full-width double doors, so it is easier for you to maintain and clean.
Like other Critter Nation product, the 162 model comes with a unique set of laches that allows you to open the doors in a jiffy or lock it without a hitch. Installation of this rat cage is very easy. A rubber mallet and a couple of minutes of your time are all you need!
Pros:
Configuration is quick and simple
The stand makes mobility easy
Comes with sufficient ground and height space
Its latches are rust-resistant
Textured ramps add feet protection and stability
Adjustable and versatile features
Removable, simple-to-clean plastic base
exhibits 2 full-width doors for optimum accessibility and ease of cleaning
wire bars are thick, chew-proof, and stain-resistant
0.5" wire spacing ensures an escape-proof habitat
spacious storage area for pet supplies
sleek, non-toxic powder coat finish
Cons:
Prevue Hendryx Feisty Ferret Cage
Voted one of the best large rat cage for four rats, the Prevue Hendryx Feisty Ferret Cage can offer the mental and physical stimulation that keeps rat bright and healthy.
This pet rat has a large area that can accommodate all your rat's playthings and still have enough room left where he can hop and chase with his roommate.
As a bonus, the Prevue Hendryx comes with a nice, well-built hammock, so you need not buy it separately. Besides, this unit is full with one plastic tray, two industrial-grade plastic platforms, two metal grilles, three sturdy plastic ramps, all of which you can easily remove for cleaning.
You will find a storage compartment at the bottom of the cage where you can place all your pet essentials. Plus, the Prevue Hendryx exhibit two huge escape-proof doors with rust-resistant and stainless steel locks.
This allows for more accessibility from either the bottom or top part, so doing some upkeep is a breeze. Likewise, this feature also allows you to better interact with your pet.
Every part of this cage is built with powder-coated stainless steel. You can expect this wrought iron cage to resist wear and tear even after many several years of usage.
With casters, you can easily transport your cage from one room to another when the need arise. It is crucial to note that the Prevue Hendryx Feisty Ferret Cage is typically meant for ferrets; so, this cage is great for large rats too.
Smaller or baby rat may find the space bars too large and may squeeze themselves out.
Pros:
It features a free hammock
Easy and fast assembly
Twice larger than regular cages
4-storey wrought iron cage
Two large openings found at top and bottom
the stand has casters for easy transport
Cons: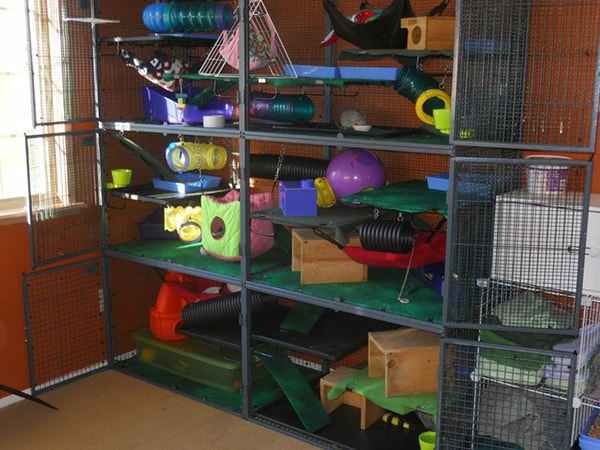 MidWest 182 Ferret Nation
This is the best extra-large rat cage for 4 rats.
The Ferret Nation 182 by MidWest would be the perfect rat condominium if you need to house 4 or more of your rodent friends. Giant rat cages such as this offers an ideal living environment where a bunch of pet rats can happily roam, socialize, and play.
If you need to separate male rats from females, for instance, you may simply block the middle part of this rat cage to create dual separate compartments. Each compartment will then have enough room for accessories and toys.
Also, being able to do such makes the cleaning process a lot easier since you can group them all into one compartment while you clean the other.
The 182 model sits at 32" L x 25" W x 62.5" H. Considering the size, setting up this cage might take a while but it needs no nuts, bolts, or screws. Simply slide the pegs into the slots with your bare hands and apply a little force using a rubber mallet to lock the panels securely in place.
You can be sure your rat cage stays safe and stationary thanks to its locking casters. The Ferret Nation 182 model us built to stand the test of time.
Other features include:
Dual durable full-width plastic floor pans that makes for solid flooring and play area maximization.
Two height-adjustable and simple-to-clean shelves
Three perfectly angled ramps that can swing up when feeding or cleaning; plus three non-skid ramp covers to ensure your pets won't slip while they are climbing their way up or down.
With two large doors and removable shelves, cleaning and feeding are made simpler.
Pros:
Features non-skid ramps
Comes with ample ground and height space
Casters can be locked in place to avoid accidental movement
plastic base prevents rats from hurting feet
uses dual-locking, corrosion-resistant latches
includes storage space for pet essentials
heavy-duty wire construction
includes removable, easy-to-clean parts
swing-up ramps with "Happy Feet" lining for traction and * additional protection
2 full-width double doors provide better interaction and ease of cleaning
sleek, non-toxic powder coat finish
Cons:
time-consuming assembly
Sorta costly
Best Metal Rat Cage for four rats
The Go2Buy Metal Three-Door Cage is proof that not everything good quality has to be super expensive.
Note: This cage has 1.5" bar spacing and hence, it is only suitable for large, adult rats. If you have a pair of fancy rats, then you'll love this cage. There is no stopping you from providing your pets with a  multi-story abode complete with a 250mL water bottle, one removable tray, five shelves, one plastic food container, and five ramps.
Making our list of best rat cages for 4 rats review means that this cage exhibits 6 levels for your pets to explore. Each platform is made of durable plastic to ensure that your pets won't be walking on wires that might keep their feet hurting.
Assembling the Go2Buy Metal Three-Door Cage is child's play and can be easily transported using its four casters.
Pros:
Comes with 3 openings
complete with an array of pet essentials
It is reasonably priced
solid flooring
Cons:
bar spacing isn't suitable for smaller rats
It doors aren't wide enough
Over to you! Do you have any recommendations for the best cages for 4 rats? Let us know in the comment section below!