Pet rats are beginner-friendly pets because they're cute, small and fairly easy to care for. Like any pet, however, rats have unique requirements for housing and buying cheap rat cages might not be the best option.
Aside feeding your pet rats healthy diet, you also need to ensure you provide the best rat cage for pet rats so your mouse can live happy, healthy lives.
In this article, we'll talk about tips for rat cage setup and offer some insight into picking the proper pet rat cage. We'll also show you our top picks for the best cage for rats in various categories.
Best Rat Cages To Buy Now
Go through this comparison table for quick features of each product. We discuss more detailed information about each product later in the article.
The Top 10 Best Cages for Rats
If you need an ideal rat habitat or cage that will best suit for your pet, you will need to be aware of what you need to buy.
A comfortable and ideal home would be one with enough room, has proper ventilation, is simple to clean and assemble.
Most importantly, it quality must be the best. So, the following list contains the best and cheapest rat cages you can pick from:
Here are our top picks for the best top rat cages you should consider:
Midwest Critter Nation Double Unit with Stand
Specs:
Size – 36 x 24 x 63 inches
Features –

Two levels,
Comes with wheels
Cleaning is easy

Materials – Coated Metal
Pros:
Built with high quality
Huge and study built
Simple to clean
Super spacious
Cons:
It is costly
Some pieces do not fit (a complaint by some customers)
It is very heavy to carry
Quality not consistent
The critter nation cage has full-width double doors that help to easily clean and feed your ratties. Plus, it features wide expansive shelf and a wide-width plastic pan floor for maximum fun and play. The happy feet ramp protects pet feet and offers traction. Plus, you can easily adjust or take out shelves and the plastic tray for simple cleaning.
Prevue Hendryx Black Feisty Cage
Specs:
Size – 31 x 20 x 54 inches
Features – Durable with loads of space
Materials – Plastic, wire mesh
Pros:
Extremely spacious room for pets to roam and play
Huge and sturdy
Very well built
Wheels allows it to be moved around with ease
Cons:
Extremely expensive
A small number of customers mentioned that the cage quality lacks consistency.
Some pieces don't fit
This spacious cage offers room for even the most energetic rats. It comes with dual plastic platforms, 1 hammock, 3 plastic ramps, and grille included. Additionally, it features a large hinged doors that are escape proof.
It's space-saving shelf can be used for storing treats, toys, and other things for the pet. It sits at 31 inches long, 54 inches high on a stand, and 20 inches wide.
Kaytee My First Home Deluxe Multi-Level Pet Home with Casters
Specs:
Size – 24 x 24 x 41.5 inches
Features –

Multi level
Assembling is simple

Materials – Plastic, wire mesh
Pros:
Features replaceable parts
Ample room for the pet
Cleaning is simple
Cons:
The hammock material lacks durability
Plastic ramps break easily
At times, some plastic parts don't easily fit together
Being one of the best rated rat pet cage means this is an easy to clean deep scatter-less base you can take out and replace in a snap. It comes with spiral slide, hammock, safety rams, 3 comfort shelves and ferret trail funnel. No doubt, this provides your small pet with a safe, yet creative multi-level environment in which to play and exercise.
This #3 in our review of the best rat cages setup hammock colors also varies.
Ware Manufacturing WARE Chew Proof Four Story Cage
Specs:
Size – 12.8 x 17 x 24 inches
Features – One level, Easy to clean
Materials – Plastic, coated wire
Pros:
Cleaning is simple
Produced from god quality materials
Assembling is simple
It is a cheap rat cage
Cons:
The bottom and top don't quite fit together
Some say the metal rusts after some periods
The latches are not super secure
This cheap rat cages are made with durable all-metal chew-proof design that has a powder coated wire that is attached to the metal drop pan with ease. Additionally, it boasts of dual front opening doorways with a safety lock, a 4-floor design that comes with shelves and ramps. It also features a well-ventilated fresh-air design. Plus, this cage sits at 12-3/4 inches long, 17 inches wide and 25 inches high.
Kaytee My First Home Tank Topper
Specs:
Size – 12.8 x 17 x 24 inches
Features – Great ventilation, easy to clean
Materials – Plastic and coated wire
Pros:
Assembling is simple
The tank has deep beddings that don't spill over
It allows for addition of more bedding
Cleaning is really simple.
Cons:
The plastic ramps can break easily
The Ladders are not sturdy enough
This cage easily converts any 10-gallon tank into a multi-level high rise for small furry pets. Plus, it comes with a food dish, safety ramps, water bottle, comfort shelves, and a little brick house hideout without the glass tank.
It is also made with chew-proof coated wire. Its bar spacing is around ½ inches, which makes it great for these small critters.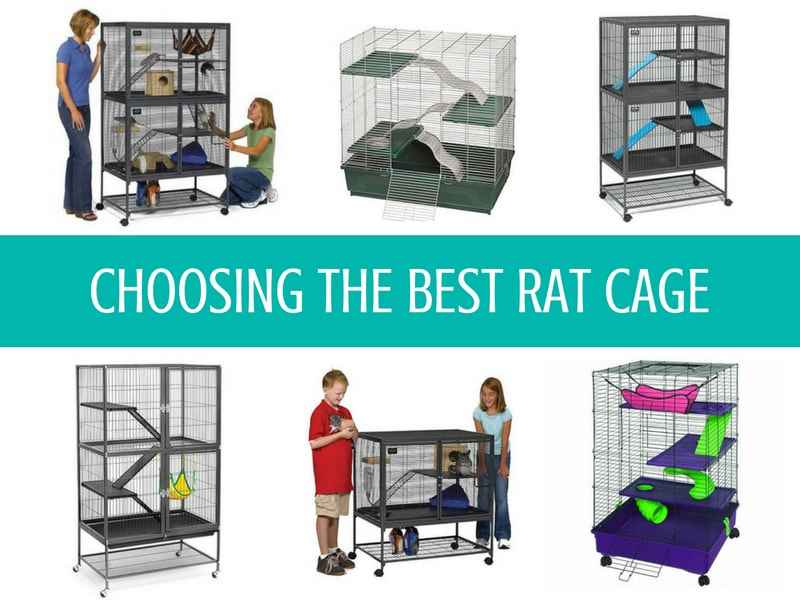 Multi-Level Habitat for Exotics, 30.5" x 18" x 30
Specs:
Size –30.5 x 8.5 x 18.5 inches
Features –

Multi-Level
It is durable

Materials – Plastic and coated wire
Pros:
It really is super sturdy
Built with great quality material
Has enough spacing
Cleaning is simple
Cons:
The water bottle is really small
Wheel is small
Rat can chew on the plastic
This cage is a perfect habitat for rats, exotic pets and chinchillas. Plus, its multiple levels are great for your pet to use to play, climb, and exercise. It is easy to clean and assemble. Plus, it boasts of a deep base that prevents spillage of beddings.
Its chew-proof wires and locks that adds to the safety of your pet. It also measures 30.5" x 18" x 30" and a bar spacing of ½ inch.
MidWest Homes for Pets Ferret Nation & Critter Nation Accessories Kit
Specs:
Size – 10.8 x 9.8 x 8.5 inches
Features –

Multi level,
Comes with accessory kit

Materials – Plastic and coated wire
Pros:
Cleaning is Easy
It is made with high quality
Very attractive colors
Cons:
Ramps pieces lack enough stability
The Velcro material is not the best
Some pieces don't fit or are missing.
This is yet another best rat cage that includes 3 ramp covers, 2 shelf covers, top pan cover and a bottom pan cover. It is also compatible with all ferret nation and critter nation double and triple unit habitats (models 182, 183, 162, 163).
The accessories are simple to take away from the cage, dryer friendly and machine washable. Furthermore, this cage has comfortable and attractive ferret accessories in a polyester micro suede material. Plus, it comes with a 12-months manufacturer's warranty.
NEW Large 3 Levels Glider Rats Animal Cage, Tight 1/2-Inch Bar Spacing
VIEW ON AMAZON →
Specs:
Size – 24 x 16 x 24 inches
Features –

3 levels
Ventilation is solid

Materials – Plastic and coated wire
Pros:
Secure and super sturdy
Built from good quality material
Cleaning is easy
The rats cannot chew through the material
Cons:
The quality build is not consistent
The rats can crawl out of the bar spacing.
This cage sits at 24″l x 16″w x 24″h. It has a 3 level chew free wire cage body with tight 1/2-inch bar spacing suitable for small animals, 1/2-inch crossbar spacing wire shelves and ladders and a paw safe.
This cage boasts of two dual front doors that have removable grated handles and floor to make it simple to carry, a slide-out bottom pan for simple cleaning. This cage can be folded easily and stored.
Kaytee Habitat Defined Rat Habitat
VIEW ON AMAZON →
Specs:
Size – 12.2 x 25.2 x 28.2 inches
Features – Safe and durable
Materials –
Pros:
It is super clean
Built with high quality
Deep pan stops spillage
Cons:
The rats can crawl out of the bar spacing
Ramps chew the plastic clips
It is hard to rearrange the cage items
This is one of the top cages in our best rat cages reviews perfect for rat lovers. This habitat comes fully with 3 sets of fun new wavy shelves and ramps to create the perfect climbing habitat for your rat. But, the ½ inch wire spacing is vet approved to keep your rat safely inside its cage.
The additional deep base prevents spilling of bedding or litter. It also is safe, durable and comfortable habitat for your pet.
Kaytee My First Home Habitat for Pet Rat, 24 by 12-Inch
VIEW ON CHEWY →
VIEW ON AMAZON →
Specs:
Size – 25.3 x 6.3 x 12.9 inches
Features – Easy setup and Multiple levels
Materials –
Pros:
Cleaning is simple
It is super secure and sturdy
The rat's teeth cannot chew through the material
Cons:
The spacing on the bar is not consistent
There is no enough space for accessories
This cage is wire locks directly into the base for extra durability and security. The latches are of chew proof wire and connect directly to the cage wire.
Plus, when assembled this habitat is 25.34 inch by 12.93 inches by 14 inches. It also has a deeper base that stops litter and bedding from spilling out of the cage. The strong plastic ramps and shelves are comfortable and safe for pets.
This no doubt is amongst the best cages for rats in the industry. The cage also has a ½ inch wire spacing to prevent your pet from escaping.
Prevue Rat and Chinchilla Cage
Specs:
Materials – Metal, wire
Size – 31×20.5×40 inches
Accessories –

Platforms
Shelves and
Ramps
Pros:
Material is durable with small wire spacing
Front door is large and features roof opening for easier access
Storage shelf on bottom for convenience
Cons:
Not as big as other models reviewed
Rose color may eventually rust with age
It's somewhat smaller than the previous Prevue cage discussed in this best rat cage review, this Chinchilla cage is great for pet rats. It is built from solid metal with a durable powder coating and 3/8-inch wire spacing for the highest form of security.
You'll also be glad to know that it comes with a space-saving shelf to store toys as well as interior accessories including ramps and platforms.
Yaheetech Metal Ferret Cage
Specs:
Materials – Iron, wire
Size – 25x17x51.5 inches
Accessories –
Pros:
Very spacious and large for the price
Features many platforms and ramps
Built from durable iron materials
Cons:
It uses a particular amount of space
Assembly instructions could be better
This chinchilla cage made our list of best cages for rat reviews because of its great vertical space for play and climbing.
It is affordably priced under $100 and features multiple platforms and ramps that you can use to customize the space. Additionally, it is built from durable materials with a slide-out tray for cleaning.
Prevue Pet Products Universal Small Animal Home
Specs:
Size – 32.5Lx19"Wx17.5"H
Features –

Cleaning is easy
Ventilation is great

Materials – Plastic and wire mesh
Pros:
Cleaning and maintenance is simp;e
Large enough to house 2 rats
Heavy duty construction for safety and security
Cons:
May not have odor as well as other cages
Primary door only boasts of a single safety clip
The Prevue Pet Products Universal Small Animal Home is a cheap cage for rat option because it comes with an additional deep base with loads of room for bedding and a wire mesh top that offers amazing ventilation.
This cages features dual entry doors, one on the top and one on the side, both of which are super large and simple to use.
This cage is easy to clean and comes with a ramp and second level to maximize the use of space.
Lixit Animal Care Savic Hamster Heaven Metro Cage
VIEW ON AMAZON →
Specs:
Size – 31.5x20x20"
Features –

Well ventilated,
modular,
Comes with accessories

Materials – Plastic and wire mesh
Pros:
Comes with multiple accessories including a wheel
Fairly simple to clean and is well ventilated
Generously sized with enrichment activities
Cons:
Can prove hard to assemble
Significantly more expensive than many models
The Luxit Animal Care Savic Hamster Heaven Metro Cage is an ideal option because it boasts of a wide floor space area with upper levels where you can place accessories like food bowls and hideouts.
You can also add it with tubes on the sides or top to provide your rat with fun oppottunities.
Ferplast Favola Large Hamster Cage
Specs:
Materials – Plastic, wire mesh
Size – 23.5×14.5×12 inches
Accessories –

Shelves
Home
Food dish
Ramps
Exercise wheel,
Pros:
It's clear base allows for better viewing
Wire top for ventilation and added space
Tight ¼-inch spacing between bars for security
Cons:
It may not accommodate larger exercise wheels
Plastic materials could be more durable
Similar in design to the past option, this gerbil cage boasts of a clear plastic base so you can easily check out your gerbil when it is burrowed into the substrate. This Ferplast Favola Large Hamster Cage consists of a nearly 5-inch-deep base with lots of space for bedding and a nearly 12-inch top.
This cage offers lots of ventilation and space with ¼-inch spacing between the bars.
What Do You Put in a Rat Cage?
Aside purchasing the best rat cages for the money, there are certain accessories that makes your rat's housing more fun and exciting.
The following is a short list of things to put in your cheap mice cage:
Like humans, animals like rats need water to quench their thirst! Pick a plastic water bottle (one you can get easily in almost every pet store), possibly a clear one so that you can see the water level inside.
Your pet rats needs bedding to sleep in cozily. Shredded paper is an ideal material for bedding for your pet mice. But, you will need to change it often.
You need to feed your rats and will need a small or medium-sized ceramic food bowl made for small animals. Ensure to position the bowl away from the shelf edges, so it does not tumble down and crush any of your rats!
Some extra accessories to include in your top rat cage are:
Rodents love to chew and rats are no different. Toys help them do just that! Chew sticks and wooden hamster blocks are ideal for this habit. Ensure you steer clear from toys with tiny parts such as beads to avoid your pet from choking on them.
This allows exercise and movement for your pet rat so that it will not need to sit idle in one spot.
Your rat should always have a ferret bed (a hanging one) to complete their best rat cage setup. This provides them with a comfortable and nice place to sleep and hide.
Rat wheels are splendid boredom buster for your beloved pets, and they come with good exercise as well, that is mainly useful if you want to avoid an obese rat!
How to Properly Maintain a Rat Cage
A common error new rat owners often make is not understanding how much work needs to be put in for the species. Cleaning out the bedding is not all that there is to caring for a pet rat.
Since rat cages can get filthy and smelly quite fast, it is crucial you learn what steps are needed to maintain one in a proper manner:
Remove Food Bowls and Feeders:
After your pet rat is done eating, take away food bowls and clean them on a constant basis. This will remove traces of food residue and will assist in maintenance of their health.
Position the Rat Cage Properly:
You should place cage of rats in a spot with a steady temperature that is not too hot or too cold. Keep the cage away from the kitchen or any other animals (if you have any). See if you can find a secure and safe surface to put down the cage.
Find a sturdy spot that is able to hold a rat cage with your pet inside.
Frequently Change the Bedding:
Take out the bedding inside the rat cage regularly. This will allow your rat to pee and sleep in a clean place.
Consider bedding to be a blanket; would it make you feel good if you were to sleep in a filthy blanket? The same applies to your rats.
They get unhappy when they're made to live in filthy bedding for long periods of time. Plus, when you change their bedding at least once or twice a week, it helps keep your house smelling hood as well.
Sadly, simply changing the bedding inside the cage is not enough to keep the foul odor away. To ensure that your rat cage is totally clean, wash the plastic base and wired top on a frequent basis. You might not be able to see it, but your pet mice can pee on the wires of the cage, and that may very well be the main culprit behind the terrible smell is coming from the cage. You ought to wash this at least once every week.
How to Cleaning a Rat Cage?
Follow the steps to clean your rat cage the best way:
Move your pet to temporary enclosed space and then empty your rat's cage
Discard the beddings and litter
You may either dismantle your cage for washing or transfer your cage to an appropriate area
Submerge all the rat toys and accessories in a tub of warm water for a couple of minutes before scrubbing.
Use a sponge (non-abrasive) soaked in dishwashing liquid in order to scrub the cage
Carry out the disinfection of the rat cage by making use of natural disinfectants or  rat-friendly cleaning products found in your kitchen area.
Thoroughly rinse the cage with hot water.
Wait sometime for your pet rat's cage to dry up. You can use a hairdryer to quickly dry up your rat's toys.
Put everything back together inside the rat cage after it is completely dried. Ensure that you do not forget to add new covers and fresh bedding.
Frequently Asked Questions
What Type Of A Cage Does A Rat Need?
A rat needs an enclosure that is both well-ventilated and spacious with the capacity to store basic things, toys, and other items.
The rat cage should be chew-proof and escape-proof.
What Type Of Cage Is Ideal For A Rat?
A metal cage seems to be the best rat cage on the market. When you put them in a metal cage, your whiskered companions will thoroughly enjoy climbing and peeping through the wires. Pus, metal cages are very simple to maintain while offering maximum ventilation.
But, since not all metal cages are the same, make sure that you pick a metal cage that will not bend and has rust-resistant features.
How Large A Rat Cage Ought To Be?
A general rule is to purchase a rat cage that fits your allocated budget. However, if your budget is limited, pick a rage cage that provides two cu ft of space (at the very least) for each of your pet rats.
How Often Must You Clean A Rat Cage?
This depends on the number of residents in the rat cage. But, no matter the number of occupants, you should carry out a couple of tasks daily. These tasks include removing solid waste and soggy floor coverings, replacing beddings, wiping cage bars with wet tissues and throwing away spilled food items.
Furthermore, you should extensively disinfect and clean your rat cage at least once a week, regardless of how may pet rats you have.
How to Carry Out Disinfection of A Rat Cage?
You can use vinegar to disinfect any rat cage effectively. You should use wet tissues soaked ib vinegar to wipe the rat cage dialy.
This is the safest and economical means of ensuring that your rat's cage is clean. You should also minimize the presence of lethal microorganisms that can make your animal sick.
It is also preferable to use a veterinarian-approved and rat-friendly disinfectant.
How do You Prevent a Rat Cage From Smelling?
Adopt every-day cleaning practices. Apple cider vinegar can serve as a natural deodorizer and neutralize the ammonia. Wipe the rat cage dauly with wet tissues dipped in vinegar (as directed above).
Take away visible waste and dampened bedding as soon as you possibly can.
Plus, ensure that you feed your pet rats with proper diet that comprises top-quality lab blocks and a blend of fresh fruits and vegetables – a poor diet results in oily skin and foul-smelling stools.
How Can You Make A Rat Cage Smell Good?
There are many odor-control and high-absorbent rat beddings available in the market today. Recycled wood pulp is a great rat bedding that you can make use of so that your rat cage smells good.
What Does a Pet Rat Need In Its Cage?
Aside good quality food and cool water, rats need toys to help with their incredibly high levels of energy!
What Do You Need To Put Inside A Rat Cage?
Before bringing a rat home, ensure that you have these things put in your pet's home:
Warm bedding
A water bottle
A hammock
Ceramic food bowl (fill it with fresh produce and dry rat food alternately)
Several mentally and physically stimulating toys
How Can I Use Fleece To Line A Rat Cage?
At first, fleece might cost a lot. But, in the long run, this item is economical, as you may just wash and reuse it.
Simply remove the pans and carve out a square or rectangular cut out for every one of them. Each fleece should be larger (an inch) so that you may tuck the additional material under the shelf using a binder.
How Do You Keep Your Rat In His/Her Cage?
Rats do love to play, move and nibble around many times a day. That means it is important you provide your pet rat with a spacious cage to accommodate many toys and accessories. This keeps them stimulated all day long.
If your pet is luxuriously, it would enjoy whiling away more time in its cage instead of trying to get out.
How Do I Make My Pet Rat Cage Completely Escape-Proof?
Picking a cage that the brands have purposely designed for domestic rats is the best possible way to make sure your rat cage is escape-proof.
If you happen to pick the wrong rat cage, buy a hardware cloth from a home depot and use the said cloth to enclose the cage. In order to be regarded as escape-proof, a cage needs to have a 0.5 inch of bar spacing.
What is Cage Size Appropriate For Two Rats?
A rat cage that measures 72 cm L x 36 cm W x 44 cm H will be more than adequate for two rats. But,  more space will be needed if you want to add additional items like toys in the cage to keep your loving pets blissfully busy.
How Much Volume of Space Does A Pet Rat Require?
To live comfortably, a rat need two cubic feet of space.
Can You Keep A Rat In An Aquarium?
Hell No! You should never keep your pet rat in a small sized aquarium.
An aquarium is NEVR a suitable home for a rat. An aquarium has many concerns that are unfavorable for a rat, such as elevated ammonia fumes, lack of space, overheating, condensation, and glass breakage issues. Plus, compared to cages, you need to clean an aquarium more often owing to health purposes.
Do Rats Like Wheels?
Typically, rats love it when they run on an exercise wheel. It keeps them fit and meet their need for physical activity.
Can Rats Live Alone?
Rats happen to be social animals. They gain much stimulation and enjoyment of another's company. In the wild, they live in family packs, so when you own one as a pet, it lives a more natural life if you keep them in pairs or more.
Should I Cover My Rats' Cage At Night?
You can do so if your house is chilly and are afraid of your pet rats catching cold. We recommend doing this if you have baby rats.
Are Ferret Cages Good For Rats?
A wire Ferret Cage (multi-tiered) makes for an ideal, well-ventilated, spacious and enjoyable home for all pet rats.
Do Rats Get Bored?
Rats are super curious animals and tend to get bored very quick. So, it is your responsibility as a pet rat owner to make sure they have something entertaining and fun to do all day.