The best affordable rat cages can be a hard thing to decide on even when you are given the size and all the information you need. Sometimes it's just a lot easier if someone points out a few for you to go off of.
There are just too many to choose from and there are a lot of opinions on how a rat cage should look like. So here's a few that I've found to be good. I'm going to assume here that you'll have at least two rats.
Just a side note, I'm pretty picky about rat cages and I also think even if you have 2-3 rats, it's better to get a bigger rat cage in case you want to expand your rat family.
However, even if you're not looking to get more than 2-3 rats, it's nice to give your rats more cage space. And usually, with the larger rat cages, the dollar per inch of space is cheaper than getting a "just enough" cage.
I highly encourage a bigger cage for rats or get a "just enough" cage for two rats. You should always be keeping your rats in pairs and spaying and neutering as necessary.
ALSO SEE: Ferret Nation vs Critter Nation
Best Affordable Rat Cages for Sale
I've categorized my recommended cages below by number of rats but remember, if you can get your rats a bigger rat cages than the minimum, I highly suggest you do so.
Your rats will love you for it! If you have any suggestions to add, please feel free to comment below and I'll add them to the list!
-Super Pets Home for Exotics
-Petco Rat Manor
-Rat Cages- Critter Nation (Single Unit)
-Ferret Nation (Single Unit – Adult rats only)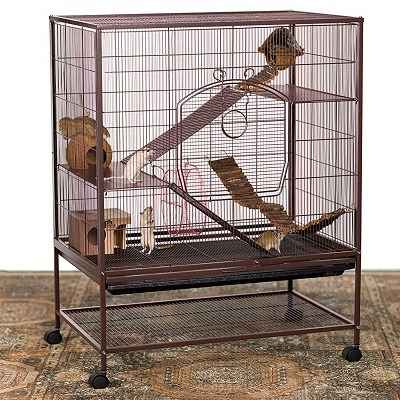 -Critter Nation (Double Unit) – You can read my Critter nation review here.
– Ferret Nation (Double Unit – Adult rats only)
– Martin Cage 695
– Prevue F040 Flight Cage (This will take some modification – as it's a bird cage.)
– Prevue Wrought Iron Small Animal Cage
– Prevue Jumbo Ferret Cage (Adult rats only)