You may want to get either of these two products and ask, what exactly is the difference?
The bar spacing for the Ferret Nation is 1" and Critter Nation is ½", the Critter Nation has horizontal bars that are great for climbing critters and Ferret Nation features bars in addition to the larger bar spacing and works best for bigger animals whose lives don't revolve around climbing. The ramps, shelves, and pans are the exact same for both cages.
Here's where you can purchase either.
Why is there such difference in price between the two then? That might be because Critter Nation has twice as many bars as Ferret Nation cages.
Ferret Nation vs Critter Nation for Chinchilla, Rats, etc
For starters, the Ferret Nation is made by Midwest and is the original cage. They created it with ferret owners in mind, which means the bar openings sits at 1 inch.
This might appear too big for use with other animals, especially smaller ones such as mice and rats. In fact juvenile rats can fit through.
So to fix this issue, Midwest came out with another product called the Critter Nation to be more appropriate for smaller animals.
It is exactly the same design as the Ferret Nation with only a few exceptions:
The bar spacing on the Ferret Nation is 1-inch. The Critter Nation has ½ inch that is better for smaller animals.
The Ferret Nation has vertical bars, that are fine for ferrets. The Critter Nation boasts of horizontal bars that are better for animals that climb up the sides.
The Critter Nation is a "no tools to assembly" cage while the Ferret Nation requires tools for assembly. This means that the pieces and shelves will snap together.
Is this newer design more modern, better or worse? Well, firstly, It makes assembly easier. However, there are some cons to this new design.
One rat owner says that this feature means the cage can easily come apart too. My friend for instance has tried to wheel to the bathroom for a proper cleaning, and it comes apart when she tried to lift it over a step.
Some rat parents enjoy creating double-wide cages with the FN by putting together two cages, but leaving off the last side of each, and then pushing the cages together.
Since the Ferret Nation is screwed together, this set-up is still super stable. However, since the CN simply snaps together, leaving off the fourth side would create a cage with a compromised structure; which could lead to your pet rat escaping when it comes apart.
Personally, I think not using the bolts design is bad.
The Critter Nation is sorta more costly. This makes sense since the smaller bar spacing means more metal is used in its manufacturing.
Critter Nation is heavier than Ferret Nation since it has more bars per square foot, it is a heavier cage.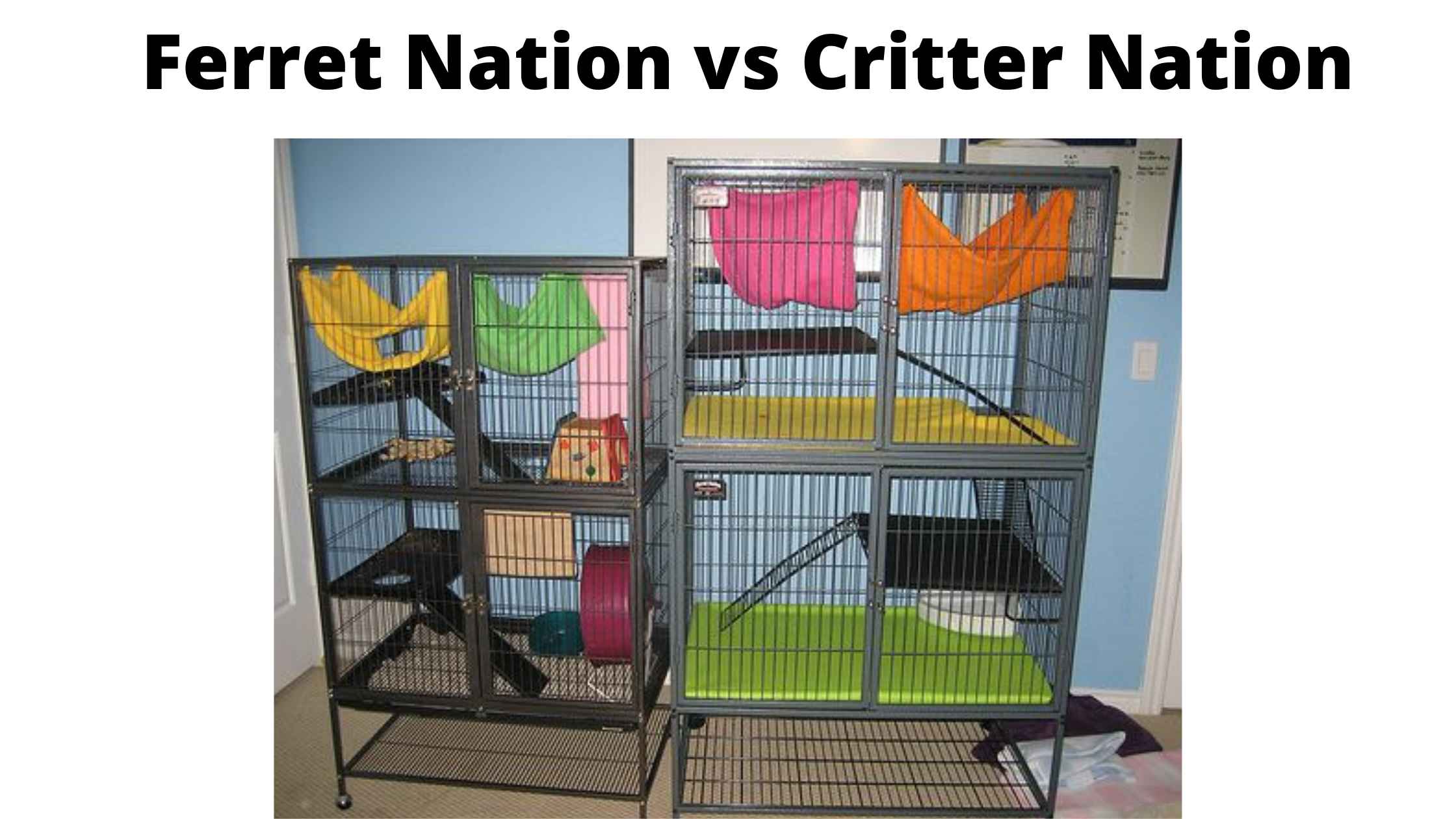 The sizes of the two cages differ a bit.
Critter Nation 1 Level: 36″L x 24″W x 39″H
Critter Nation 2 Levels: 36″L x 24″W x 63″H
VS
Ferret Nation 1 Level: 36″L x 25″W x 38 1/2″H
Ferret Nation 2 Levels: 36″L x 25″W x 62 1/2″H
We will update this content with more information if we locate any more differences
Here's where you can purchase either.